About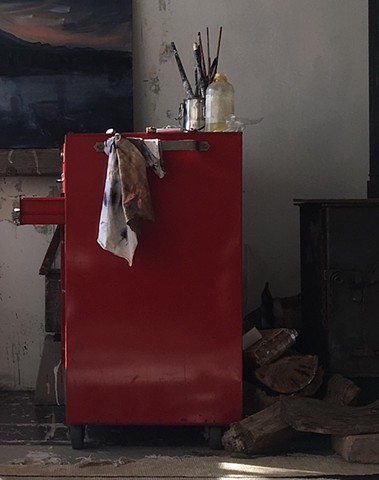 "My artistic and creative journey began in architecture and interior design. After 20 years of designing, I began painting again while living back in New York City. After returning to California for the second time, I began taking painting, ceramic and textile classes to hone my skill sets. I'm excited for the second half of my career!" Tracey
Artist Statement:
In my work, layered abstractions are born and transformed by nature's elements of wind, rain, sunlight and time. I often weather the object or painting outside for a natural feeling. I explore the circumstances of life through a diversity of media, textures and gestures, which imbue my compositions with vitality and a sense of motion. My work mediates between turbulence and joy. As layers of material are melded and molded by hand and time, the beauty and path of the piece begins to appear. I often use architectural and design elements in my mixed-media work as well as art historical references to explore color, themes and objects.
Tracey M. Kessler was born in Huntington, New York and attended FIT in New York City where she earned her BFA. She also studied painting conservation and restoration at the Instituto de Conservacion y Restauracion de Bienes Culturales in Madrid, Spain.
She began her career in New York City in architecture and interior design and spent the last 25 years working on commercial, residential, and retail projects on both coasts. After launching her own firm in San Francisco, TKID tkid-sf.com Tracey decided to follow her passion as an artist and spent the last few years back in New York developing new bodies of work. In 2010, Tracey relocated back to the Bay Area.
Her work reflects the calm she finds in the daily interactions and conversations with acquaintances, friends, and family. Though inspired throughout the turbulent times of our modern era, her work (influenced by such artists as Tapies, Frankenthaler, Mitchell, Polke and Burri ) possesses a soothing, calm and organic feel clearly paralleled by her California lifestyle. Using a wide variety of mediums including oils, acrylic, inks, charcoal, gesso and natural pigments, the works begin to have their own voice.
Please see www.tkid-sf.com for ceramics, surface pattern design, interiors, lighting and textiles.
Tracey can now be found working in her indoor/outdoor studio on Varda Landing in Sausalito. www.sausalitohistoricalsociety.com/saus…
www.thesausalitofoundation.com/varda


RESUME
Born in: Huntington, New York
Lives in: Sausalito, CA
Education
1995 Bachelors of Fine Arts (FIT, New York) Internship-Painting Conservation-Madrid, Spain
Selected Exhibitions
2020 "Duality" Virtual on-line exhibit- 9/1/30 - 12/30/20 Tarjan Center at UCLA - CalArts
2020 "Telephone" An international art experiment -
www.nytimes.com/2015/04/19/arts/design/…
2019 BayAreaMade - MarinMade event on Gate 5 Road - 6/15/19
2019 NIAD, There's Reality, and Then There's California, 6/1/2019- Richmond, CA
2017 Open Studios - Beyond The Wave Gate - Sausalito, CA
2017 Carbondale Arts – Correspondence (Mail Art) – Carbondale, CO
2017 Sarah Swell Gallery - Sausalito, CA
2016 Winter Open Studios – Beyond The Wave Gate – Sausalito, CA
2016 "Terrain- Navigating Landscape" 9/10-10/10 The Midway-San Francisco, CA
2016 Selected for 1st Artist Residency program at The Midway-San Francisco, CA
2016 Private Corporate Commission – San Francisco, CA
2015 Winter Open Studios – Beyond The Wave Gate—Sausalito, CA
2015 Spring Open Studios –Beyond The Wave Gate-Sausalito, CA
2014 Studio Visit Magazine – Volume#27- Carl Belz juror- Rose Art Museum
2014 Six works in the Flat Files at Pierogi Gallery, Brooklyn, NY
2014 DiPietro Todd Events- Solo Show- Pacific Heights-San Francisco, CA
2013 SF Writers' Grotto- Two person show "Random Bloomers" San Francisco, CA
2013 Artspan Open Studios- Big Umbrella Studios Group show-San Francisco, CA
2013 O'Hanlon Center for Art – Symbols- Group show-Juror- Gregory Wiley Edwards
2013 Mill Valley Public Library- June Solo show "Dhyan" Mill Valley, CA
2013 O'Hanlon Center for Art. BOLD -Juror-Robert Green Mill Valley, CA
2013 ArtHaus Gallery, "Abstract Notions" Jan. 9th-March 30th San Francisco, CA
2012 New House Gallery- Solo show "In the Canyon" Oct. 26th-Nov.26th Ross, CA
2012 O'Hanlon Center "Bay Area Women Artist" Mill Valley, CA Juror Donna Seager
2012 National Juried Exhibition Marin MOCA Curator Lucinda Barnes-Berkeley Art Museum
2011 "Artisan Series w/Rush Philanthropic", 5 Claude Lane, San Francisco, CA
2011 "Girl Group" Art Haus Gallery Juried show Oct.-Dec.
2011 Art Span Fall Open Studios, San Francisco, CA
2011 "A Sense of Place", Arc Gallery For NCWCA, San Francisco, CA
2011 Art Explosion, "Spring Open studios" Group Exhibition, San Francisco, CA
2011 POOL Art Fair @ The Gerswhin Hotel - March 4-6th, New York, NY
2010 "A Book About Death", CW Post Campus, Stonybrook, NY
2010 "Swimming Up & Down Stream" Jak Home – Spring- San Francisco, CA
2010 "X-Initiatives", Old DIA Museum Space - 24hr show, New York, NY
2010 The Brooklyn Art Library - Sketchbook project - Brooklyn, NY
2009 The Fine Art of Designers, Art Haus Gallery, San Francisco, CA Winter
2009 Gracie Square Art Show - Carl Schurz Park, New York, NY
2009 Gensler Art Auction- New York, NY - Summer
1995 Art Initiatives, 'Maximum capacity', New York, NY – Group Show
1995 Soho 20 Gallery, 'Real Life Show', New York, NY – Group Show
Awards/Grants
2020 - UCLA- Tarjan Center - Grant recipient
2020 Safety Net Fund - Grant recipient
2011 Creative Capacity Fund @ CCI, San Francisco, CA
2006 International Design Awards (IDA) Los Angeles, CA
Selected Private, Public and Corporate Collections
2018 Private Commission, San Francisco, California
2016 Parkside Headquarters, San Francisco, California
2012 Yamana Gold Headquarters, Toronto, Canada
2010 Brooklyn Art Library, Brooklyn, NY
CURRENT, Recent & Upcoming Exhibitions
NIAD
Main Gallery // There's Reality, and Then There's California, Curated by Jessica Snow
Opening- June 1st, 2019- June 27th Richmond, CA
niadart.org/
ROOT Division 16th Annual Auction 2017
October 26th, 2017 - 6 p.m. VIP 7 p.m. - 10 p.m. Auction
1131 Mission Street, San Francisco, CA 94103
www.rootdivision.org/art-auction
New House Gallery
Branson
39 Fernhill Avenue
Ross, CA
www.branson.org/Page/1655
September 19th - November 19th 2017
Umber Nights , is a solo exhibition of new works by Tracey Kessler, mixed-media on canvas that were completed over the Summer of 2017 in Sausalito, CA. Kessler's practice is the result of layering materials relating to the current environment. These works represent the dryness of the state of California due to the drought. Envisioning the indigo nights enhanced with painterly strokes of umber, smokey charcoals and gray fog coming in from the Pacific ocean.
Correspondence
Six initiating artists (who started their work on October 1, 2016) are each corresponding with another fellow artist until May 1, 2017. These correspondences will be sent and received via the postal system in the tradition of Mail Art. For many of the artists this will be the only means of communication between the two artists, forcing them to explore the intimacy of conversation through the physical exchange of letters/art works.
June 2nd - June 30th
Carbondale, CO
www.carbondalearts.com/r2-gallery/upcom…
Sausalito Art Walk
Come stroll down Caledonia Street kicking off Art Walk 2017
Wednesday, May 10th, 5-8 p.m. Sarah Swell Jewelry
215 Caledonia Street, Sausalito, CA
www.sarahswell.com
www.artwalksausalito.com
Fall Open Studios
Saturday, November 19th 12- 5 p.m.
Beyond The Wave Gate
Sausalito, CA
Terrain: Navigating Landscape
Artist Talk: Saturday, October 8th 6 to 9 p.m.
Opening: September 10th 2016 6 p.m. to 9 p.m.
The MidwaySF
900 Marin Street
San Francisco, CA
www.themidwaygallery.com/future/
Inaugural Artist Residency 2016
themidwaysf.com
San Francisco
Works on paper currently www.pierogi2000.com/
177 North 9th Street
Brooklyn, NY 11211
Contact
T: 718.599.2144
E: info@pierogi2000.com